C Store Back Office Software
Hisably handles all the nitty-gritty tasks in a convenience store or gas station.
From streamlining the workflow to generating reports to looking at tedious admin tasks,
this cloud-based solution is your go-to partner.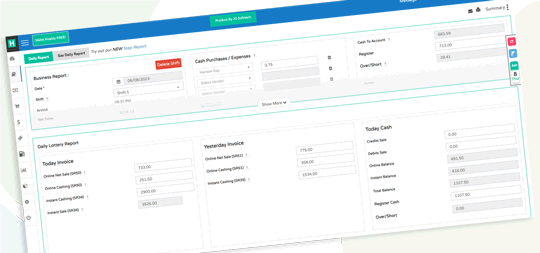 Why Do Store Owners Need C Store Back Office Software?
Hisably, the best C Store Back Office Software, helps C-store owners streamline inventory management for lotteries, track expenses and purchases, general ledger reports, & many more features! Through a unified interface, Hisably facilitates store owners (like you!) in executing business decisions better and sooner, leading to minimized capital investments & maximized cashflows, and greater opportunities for increasing customer satisfaction.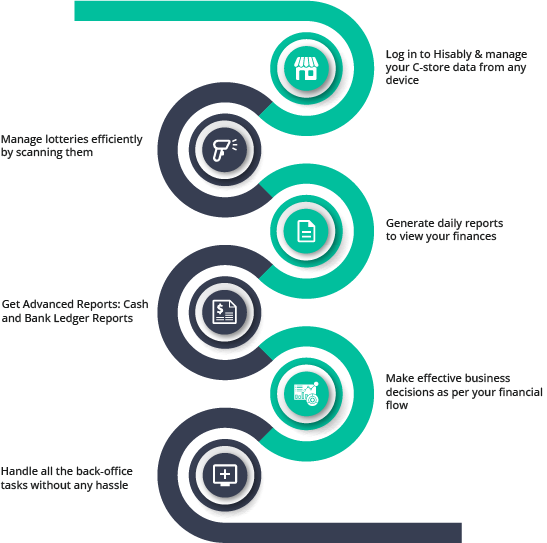 How Hisably Works?
Hisably, our C-Store back office software, helps managing your store's finances and data from anywhere, anytime, using any device, just requiring an internet connection! Running a lottery business on your C-Store? The integrated lottery ticket scanning function in our convenience store back office software, swiftly scans tickets through a barcode scanner, and automatically computes your sales, profits, and balance lottery tickets available in-store!
Convenience store accounting software facilitates generating daily reports of your store, eliminating potential errors & saving your time. View your daily and monthly cash flow, lottery sales & payouts, business reports, etc., in just a few clicks, reviewing the store's financial standing instantly! Importantly, Hisably's comprehensive analytics & graphical reports portray real-time financial flow.
Analyzing your finances accurately, tracking inventory live, and helping make precise financial decisions, which drive a C store's profitability higher, has made Hisably as the best software for convenience stores by popular choice!
Our C-store back office software even generates cash ledger and bank ledger reports for complete transparency of inflow and outflow of money of your C-Store!
Beyond lottery inventory and management, our convenience store back office software is the best option for handling various back-office tasks. From invoice tracking to expense management to bank deposits, and owner distributions. Instantly, you get invaluable insights of the store's performance in a few clicks!
Frequently Asked Questions
Does your software support barcode scanning for inventory management?
Definitely, our Convenience store accounting software supports barcode scanning to make the process of inventory entry and tracking efficient.
Can I track sales data using your back office software?
Yes, our software provides detailed lottery sales reports that you have sold in your store.
Will my data remain secure on your convenience store accounting software?
Without any doubt, your data on the back office software remains secure because we utilize cloud-based servers and implement the best security practices.
How general ledger reports would be beneficial for a convenience store?
Hisably provides bank and cash ledger reports in the General Ledger reports. These reports help you understand the inflow and outflow of money in your C-store and make informed business decisions.